Wish to get glowing skin without experimenting with more skincare products? Tired of your futile skincare routine? Looking for an easy way to solve your skin woes? Often, your skincare products are blamed for not giving you the flawless, radiant skin you desire. However, it can also be due to the way you use those products. Try the 60-second rule for washing your face.
For example, only applying moisturizer and not massaging it on your skin might not give you the desired results. Similarly, if you do not let your cleanser stay on your skin for a sufficient time, it might not be able to clean dirt and oil off your face thoroughly. The result? Dull skin and an uneven complexion.
Relax, it is not like you have been cleaning your face all wrong since eons, it is just a faulty skincare practise we might have been following. Understanding and acknowledging this gap in the skincare routine, many dermats and beauty influencers are preferring the 60-second rule for washing your face lately. Do you know about it? Continue to read more.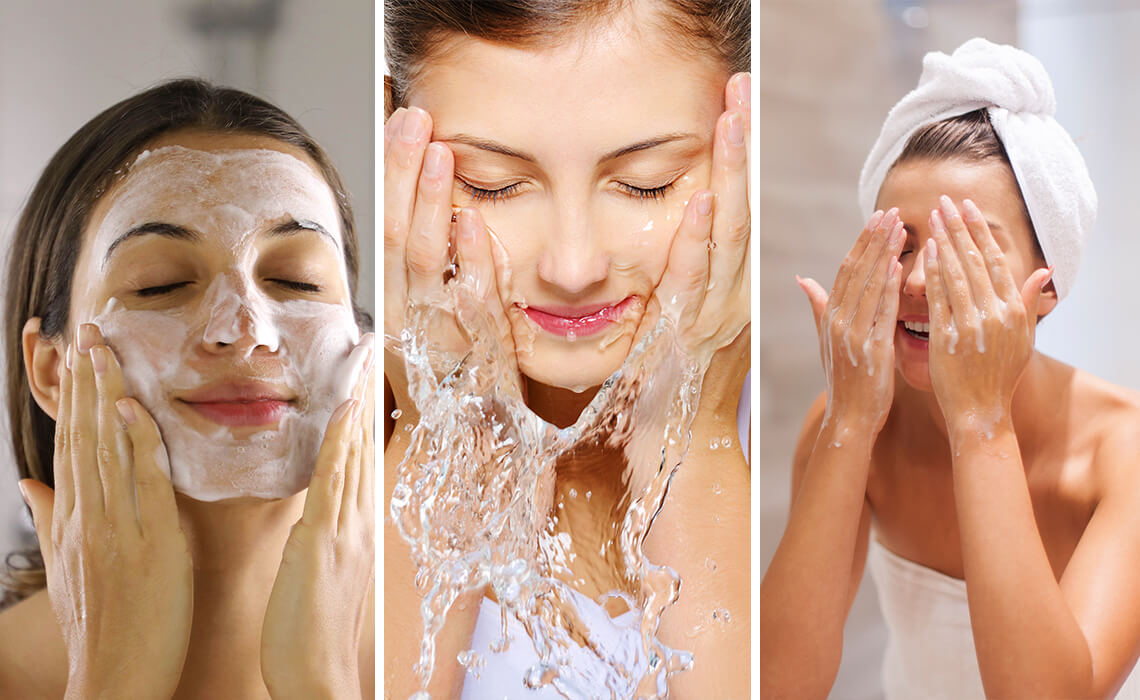 What is the 60-second rule for washing your face?
As self-explanatory it is, the 60-second rule for washing your face emphasises that instead of washing your face for 15-20 seconds as you are accustomed to, you should wash your face for a full minute.
This beauty trend gained popularity after being tweeted with the hashtag - #60secondrule - by LA-based beautyologist and aesthetician Nayamka Robert-Smith. Robert-Smith encourages her followers to wash their face for a full minute both morning and night as it takes 60 seconds for the product to be efficiently absorbed and begin the magic it is intended to perform.
Who should do it?
The 60-second rule is not exclusive to any skin type, and anyone can follow it. If you have clear skin but are fed up with blackheads, dryness, dullness, and patchy skin, you should give it a try. Washing your face for one minute might give you the soft, blemish-free glow that is usually hidden behind sweat and grime.
Why should you do it?
Simple, to allow your cleanser to work better! Even the best skincare products cannot make a difference to your skin if you do not let them work as they are intended to, in this case, finishing the process even before the active ingredients start working on your skin.
When you wash your face for a full minute, the product gets ample time to penetrate the outer layer of the skin and remove oil (sebum), dirt, and other residue stuck to the skin. Moreover, it also gives you time to pay attention to the edges around the nose, the chin, the hairline, as well as the neck and other parts of the face that you generally neglect.
Does your choice of face cleanser make a difference?
Yes, indeed! When you use a face wash, you allow its ingredients to rest on your skin and be absorbed into the skin cells. Hence, it is super-important that you remain extra careful about what products touch your skin. For example, it is alleged that parabens can mimic estrogen hormones and result in breast cancer. Sounds scary, eh? So why risk it then? Why not choose centuries-old Ayurvedic wisdom combined with the magic of Mother Nature for your skin?
Ayurveda is not just an ancient method to treat illnesses but is also ascience of life'. It holds many secrets to getting the flawless skin you so desire without any of the side-effects. What if we told you that you can get the best of nature's goodness and the secrets of Ayurveda in tubes and bottles? Wouldn't that be great? Here's where Coco Soul comes to your aid.
Coco Soul believes that nature has the answer to all your skincare woes. Created with centuries-old Ayurvedic wisdom, Coco Soul envisions to bring the magic of nature to your doorstep. Why look elsewhere? While you are changing the way to wash your face, why not switch to pure, exotic, and natural products that can effortlessly give you radiant, flawless, and beautiful skin.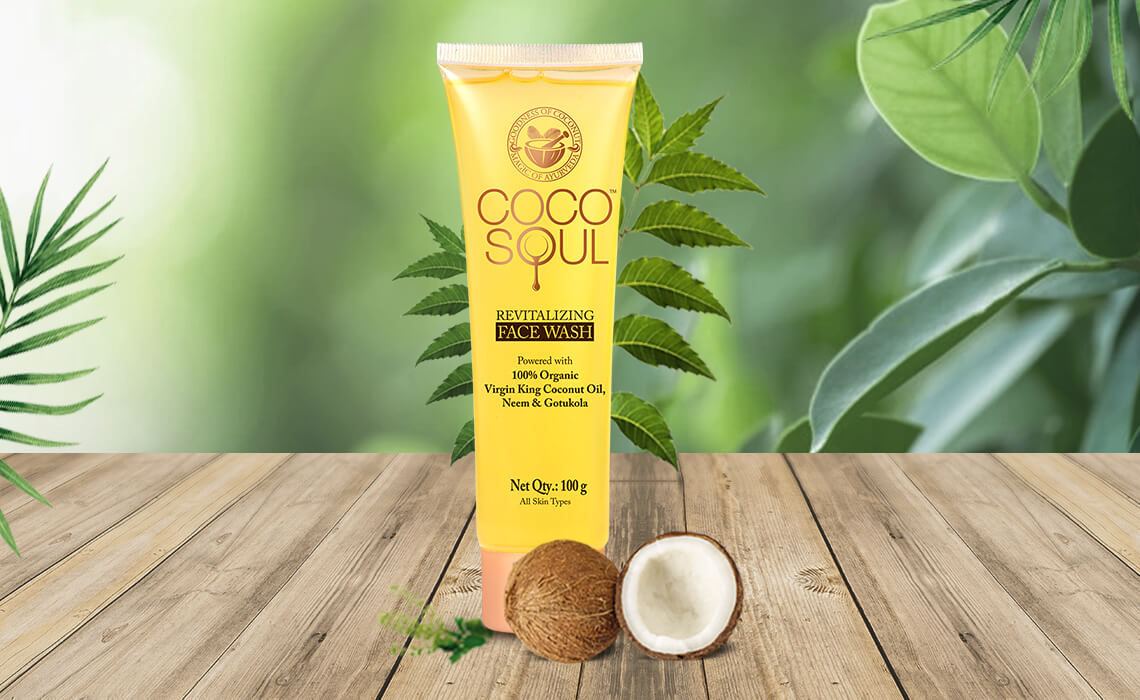 Coco Soul Revitalising Face Wash
Crafted with virgin king coconut oil, a powerhouse of nutrition, and mighty herbs like gotukola and neem, this face wash can be your skin's new best friend. It gently cleanses the dirt from your face without drying it out. This face cleanser contains:
Virgin coconut oil: Called anelixir' in Ayurveda, it hydrates your skin and promotes cellular repair.
Neem: Rich in vitamin E, this Ayurvedic herb is effective in removing pigmentation and giving you clear, blemish-free skin.
Gotukola: An organic hero, it is known to fight sagging skin by promoting collagen production to reveal younger, firmer skin.
This nature-inspired face wash will make your skin appear rejuvenated and radiant in no time. Notably, it is free from parabens, sulphates, DEA, mineral oils, silicones, sodium chloride, and other harmful chemicals. Moreover, nature-friendly as it is, it has not been tested on animals, is 100% vegan, and is also MadeSafeâ"¢-certified, i.e. completely safe to be used on your skin.
Guide on how to use this skincare trend
This 60-second face wash routine gradually enhances the benefits of your face wash as it thoroughly clears your skin of all the dirt and grime. Here are the steps to cleanse your face as per this beauty trend.
Splash your face with lukewarm water to get the pores to open up.
Take a pea-size drop of this face wash on your palms and lather up.
Apply it all over the face, including the forehead, chin, nose, and cheeks in circular motions using your fingers.
Make sure that you clean the edges of the nose and behind the ear where most dirt accumulates.
To get the full benefits of this face wash, leave the lather on your face for a full 60 seconds.
Rinse off with lukewarm water and ensure there's no product residue.
Take a soft towel and pat your face dry. Do not rub or wipe harshly as it can damage the skin and give way to fine lines and wrinkles.
Now that you know how to wash your face properly, check out our blog on how to exfoliate skin naturally to learn about skin exfoliation.
Conclusion
Instead of wasting your time, money, and effort on lengthy, expensive procedures, following this 60-second rule can help you notice desirable changes in your facial skin. Start today and see the results for yourself. To know more about wholesome and natural skincare products, head to the Coco Soul store, now. You must also check out our blog on ayurvedic skincare tips for glowing skin if you wish to get a glowing and healthy skin naturally.