What do you usually do when the winter arrives? Gorge ongajar ka halwa' and revamp your wardrobe. But what about your feet? Unfortunately, they bear the harshness of winters the most. Sure, you might be ready to flaunt your chic winter boots, but are you prepared to deal with dry, cracked feet crying for attention? We guess not.
Winters can be a challenging time for your feet, and hiding them with woollens might not work all the time. Dry, cold winter winds, coupled with artificial heat, can strip your feet of their moisture. The result: dry, cracked feet. Hence, indulging in a foot care routine on a regular basis is just as essential as caring for your face or hair.
Here, we've put together some foot care tips from experts to help you flaunt nourished and beautiful feet.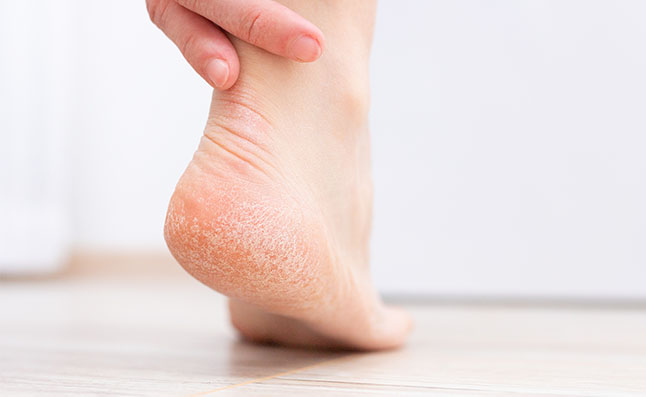 1. Scrub the dead skin away
Keep your feet clean, and you are halfway through the foot care routine. But exfoliation is necessary too. To this effect, you can use a body scrub or an exfoliator to rub off all the dead skin from your feet. A good exfoliating routine carried out once or twice a week will help you get rid of ugly calluses and roughness. Pumice stones are a good exfoliator, especially for the heels. Gently scrub the stone around your soles to open clogged pores and peel off chapped and dead skin. Exfoliating your feet will remove dirt and debris and allow the moisturiser to penetrate deep into the skin.
2. Invest in a good foot care cream
While everyone remembers to moisturise their arms and face several times a day during the winters, it is usually not the same with your feet. Our feet are often neglected, which makes them prone to dryness, pigmentation, and cracking. To replenish lost moisture and keep your feet nourished, you need to invest in a good foot moisturiser that is lightweight as well as nourishing, not to forget devoid of chemicals.
The exotic virgin coconut oil is a recommended ingredient for feet care as its anti-inflammatory properties repair cracked heels. A concoction made with exotic virgin coconut oil and the wisdom of centuries-old Ayurveda can help you out here. Coco Soul, an au naturel brand, brings the essence of exotic, Ayurvedic herbs to you in easy packaging. Its products are infused with virgin king coconut oil and other herbs that work like magic on your skin to solve all your skincare woes in no time.
3. Foot Bath
The thick skin on your feet tends to get drier than other parts of the body, which can cause cracks. So treat yourself with a rejuvenating foot bath once in a while to soothe your skin, relax your muscles, and give your feet the much-needed relief.
Warm some water in a bucket and add salt, a few drops of lemon juice, and essential oils. Dip your dry, tired feet in the water while watching your favourite TV series and let your feet heal and get de-stressed.
Pro-tip: Do not use hot water as it will make your feet drier.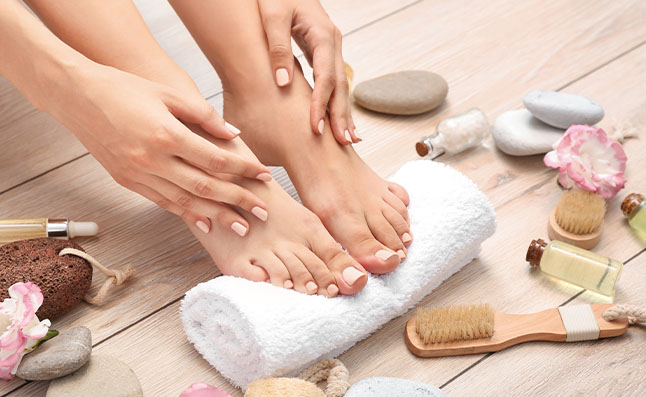 4. Foot massage
A foot massage is the ultimate foot care technique and can give you instant relief. Warm a cup of coconut oil or mustard oil and use it to gently massage your tired feet. Pay close attention to the area between the toes and around the ankles and massage them properly. Dermats believe that the correct foot massage technique can boost blood circulation and strengthen your feet.
5. Foot mask
Beyond all the creams and oils, applying a foot mask once in a while can give you the required nourishment your feet need. During winters, you can use your off-days to pamper your feet with a foot mask. A good foot mask with natural ingredients can peel off dry skin and instantly increase the moisture levels in your feet.
For dry feet, you can go with a banana-honey foot mask. Mash a ripe banana in a bowl and add a few drops of honey and lemon juice to it. Apply a thick layer of this paste evenly on your feet and cover it with kitchen foil. Wash off after a few minutes.
Try Coco Soul
To treat your feet with the goodness of nature, you can opt for the Coco Soul Foot Care Cream. Enriched with 100% organic virgin king coconut oil derived from Sri Lanka and the wisdom of Ayurvedic herbs like neem and peppermint, this foot moisturiser has specifically been made to solve all your feet woes. It has:
Virgin coconut oil:

 

It deeply penetrates the skin cells to provide adequate nourishment and promote cellular repair.
Peppermint:

 

Enlivens and soothes the skin while its stimulating fragrance invigorates the senses.
Neem:

 

Its anti-ageing properties help remove pigmentation to give you soft, blemish-free, and younger-looking feet.
Mostly neglected and uncared for, your feet need a good foot care regime during winters. Dry, cracked feet are not only embarrassing but can also be uncomfortable and painful if left untreated. Moreover, if you are suffering from immune-deficiency, diabetes, or neuropathy, opting for an expert foot care routine becomes necessary, without which, cracked feet can cause infection and fatal wounds.
So follow these foot care tips in addition to regularly applying the organic Coco Soul foot moisturiser and dance your way through this winter effortlessly. Visit Coco Soul's shop to find more natural, skin-friendly products today. Now that you know about the foot care tips, check out the skincare tips to get rid of acne. You must also check out our blog on how to prevent blackheads from our skincare blog section.