Getting rid of all the stress and fatigue while you take a shower is probably one of the best comforts in the world. Isn't it? But sometimes jumping into the shower can put you in a fix too. Like when you have to choose what to lather with; shower gel or soap.
While shower gel and soaps have the same job, your choice can have a significant impact on your skin. Therefore, it is necessary to judge which one suits you best and then take an informed decision.
Here is a quick guide to help you solve the dilemma and pick one between the two. Read on.
Soap vs shower gel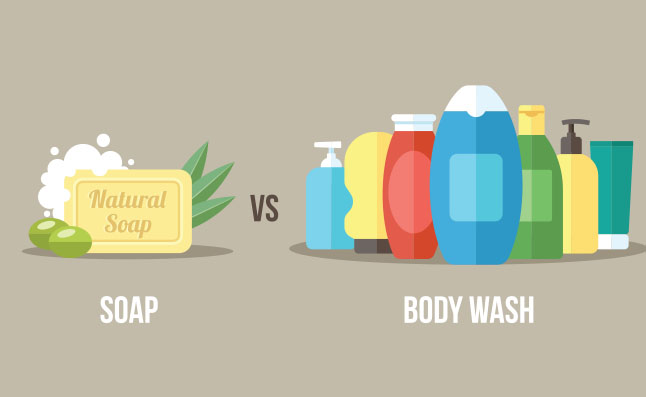 Fundamentally, there is not much difference between soaps and shower gels, i.e. they're both supposed to lather you up for a thorough cleansing. Structurally, however, soap is made up of a combination of liquid fats (like animal fat or vegetable oil) with an alkaline substance like sodium hydroxide. On the other hand, the basic ingredients of shower gels are water and foaming agents, like sulphates, SLS (unless it is a natural, plant-based shower gel, of course!), and betadine for binding. Hence, it is usually perceived that both clean your skin in the same way.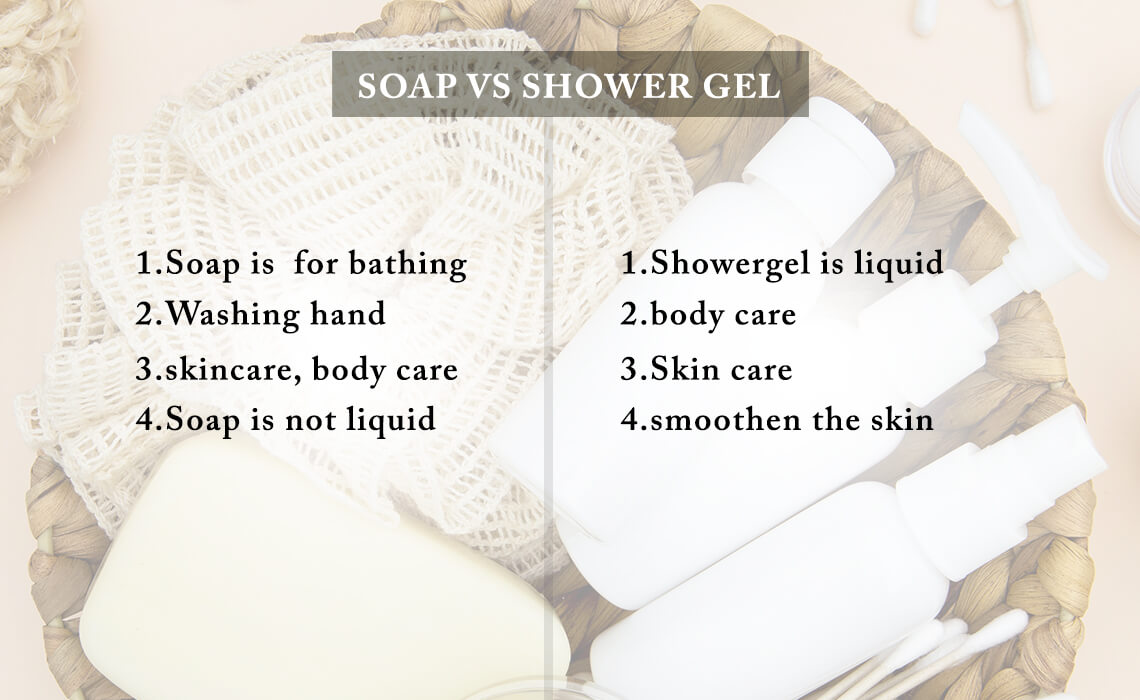 Why should you prefer soap bars?
These are some reasons to choose soap bars for your skin.
Easy application
More common in Indian households than shower gels, bathing soaps are generally cheap and relatively easy to use. You can directly apply it on wet skin to create lather without hassling with a loofah, washcloth, sponge, or body brush. Moreover, it does not result in any plastic waste, effectively helping you in doing your bit for Mother Nature!
Compact and small
A bathing soap can fit in your palm, and hence, is easy to store in your bathroom closet or in your travel kit.
Available in variants
Different types of bar soaps with different base ingredients catering to various purposes are available in the markets today. These could either be your clear glycerin soaps, or antibacterial soaps, etc., based on your needs and requirements.
Why is it better to use shower gels?
Following are the reasons why you might want to switch to a shower gel.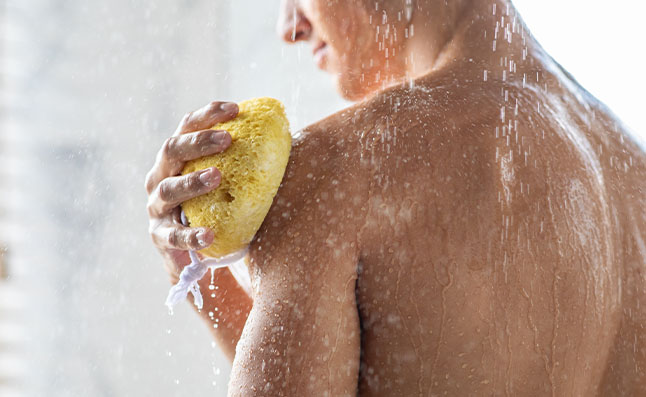 Hygienic and safe
Experts believe that one of the main benefits of shower gels is that they are hygienic in nature. Unlike soap bars, which are typically used by several people and, as such, might be contaminated from previous use, shower gels are contained in tubes and bottles, making them safe and hygienic for each use.
Good for exfoliation and nourishment
Water-based shower gels or body washes are often infused with granules that make them perfect for exfoliating. Moreover, a shower gel's thick lather leaves your skin feeling soft. If you are a fan of mild cleansers and shampoos, a shower gel can be your safest bet for everyday use.
For all skin types
The water-based formula of a shower gel easily lathers to form a rich foam. While soaps can be used on normal skin, shower gels made for dry skin deeply moisturise and nourish the skin cells to restore hydration. On that note, let us tell you that there is nothing better than a shower gel made from plant-based ingredients as it is safe to use on all skin types, even sensitive.
So, which is better: soap or shower gel?
Apart from the quality of the cleanser you opt for and your skin type, there are two other factors you can consider while choosing between a soap and a shower gel.
Your age
You may or may not classify it as one of the disadvantages of soap, but dermats believe that you should not use soap bars after a certain age. It is because your skin tends to get thinner as you age. Coupled with make-up and other skincare products that you may be using, the chemical properties of a soap can be harsh on your skin and strip off its natural oils, making it dry and rough.
Your lifestyle
If you sweat a lot or are exposed to dirt and dust often, soaps could be better for your skin, considering that you need more than just lather to cleanse the collected dirt and grime. However, for a normal lifestyle, a shower gel or body wash is usually mild enough to wash off the accumulated dirt.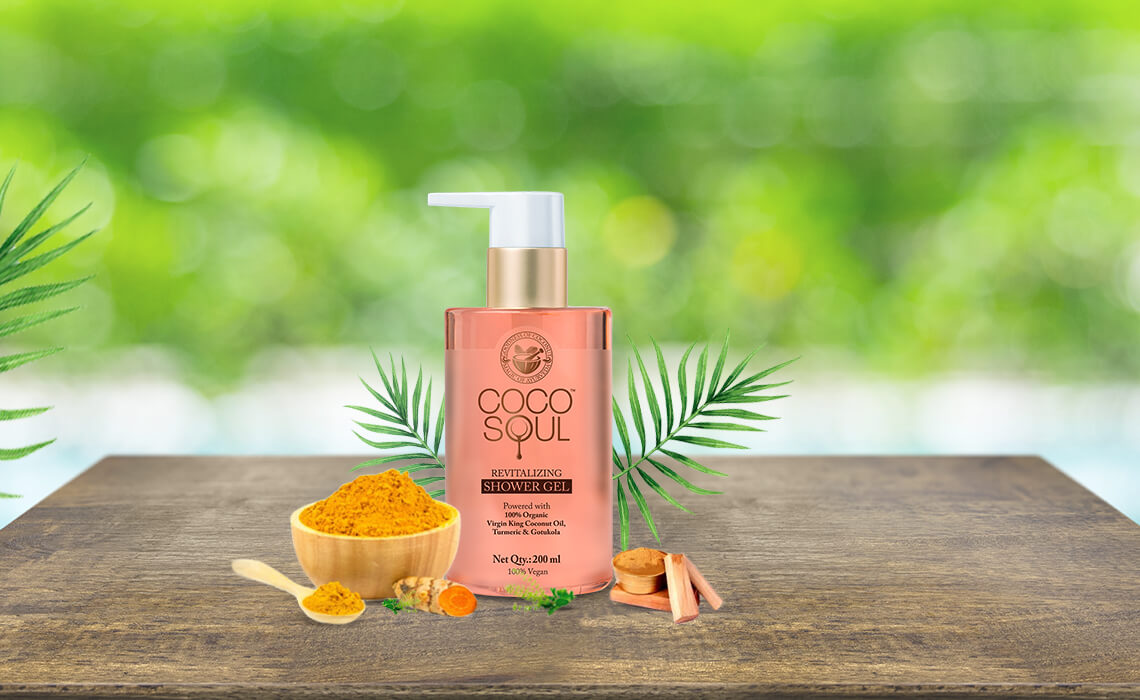 Whether you choose a soap or a shower gel, either way, ensure that it is safe and nourishing for your skin. The harsh chemicals used in these cleansers can strip off the natural oils from your skin and make it dry and dull. This is the reason why your grandmother used to push you to use desiubtan' made with natural ingredients. The ingredients borrowed from nature are not only nourishing, but they are also revered in Ayurveda, which makes them ideal for a moisturised and glowing skin.
Nonetheless, we understand that it might not be easy for everyone to get their hands on these ingredients, forget making a concoction out of them. So we present to you - Coco Soul.
Infused with the wisdom of ancient Ayurveda, all Coco Soul products are mild on your skin and effective for treating a range of skin woes. And as cleansers like soaps and shower gels not only rest on your skin but also get absorbed, it is essential that they are natural and completely safe to be used on the skin. To that effect, you can try the Coco Soul Revitalising Shower Gel.
Loaded with 100% organic virgin coconut oil and the goodness of exotic, Ayurvedic herbs, this shower gel is like a splash of pure ingredients on your skin. Its natural ingredients gently cleanse, purify, and rejuvenate the skin without any lingering dryness. It contains:
Virgin coconut oil: Known as an elixir in Ayurveda, it has skin-nurturing compounds that hydrate and nourish the skin.
Sandalwood: It reduces oxidative stress in the skin, minimises age spots, and reverses sun damage.
Gotukola: It fights sagging skin and promotes collagen production.
Upon application, the Revitalising Shower Gel's lightweight texture will transform into a luxurious foam to give you an exotic shower experience. It is free from parabens, sulphates, sodium chloride, DEA, mineral oil, petroleum, or other harmful chemicals. It is also 100% vegan and MadeSafeâ"¢-certified. It is always better to use chemical-free and natural products. To learn more about these natural and organic skin care products, head over to our blog on benefits of organic skin care products.
So what are you waiting for? Head to our shop section to find more such skin- and nature-friendly products and add them to your daily skincare routine now. You must also check out our blog on the uses and benefits of hand and nail cream for dry hands from our skin care blog section.