If you are someone who likes to be updated about the beauty trends, you might know that the cosmetic world today is turning organic. People are relying more on DIY skincare, are paying attention to the list of ingredients their products contain and are looking towards nature for their beauty needs.
Thanks to the increased awareness, people now know that they might be injecting harmful elements in their body through cosmetics. One such harmful chemical widely found in cosmetics is sulphate. Here we tell you what is sulphate and why you should stay away from it.
What is sulphate?
Sulphates are chemical salts that act as a cleaning agent to create a lathering foam in your beauty products. Present in face washes, shampoos, shower gels, toothpaste etc, these sulphates are responsible for cleaning oil, dirt and dust from your skin and scalp. Although there are around 100 varieties of sulphates used, the most common compounds of sulphates found in cosmetics are sodium lauryl sulfate, ammonium lauryl sulfate, and sodium Laureth sulfate. While there is no scientific research confirming that it causes major diseases like cancer, dermats recommend staying away from products containing sulphates due to its side effects on your skin and hair.
Why is sulphate bad for hair?
Dermatologists are often askeddo sulphates damage hair? And their answer is yes. Sulphates are known to irritate the scalp and get harsh on your hair. They can strip off the natural oils from your scalp, making them dry and weak leading to hair loss. People with sensitive scalp can be susceptible to inflamed skin and allergic reactions with long exposure to sulphate based products.
Not only for the hair, but sulphates can be harmful to your skin too. Sulphate in skin products like face wash can irritate your skin and make it dry and rough over time. Silicone is another bad ingredient in hair care. You must also check out our blog on why silicone is bad for hair.
What should you do?
You need not panic. Thankfully like you, there are many brands which know the disadvantages of harmful chemicals in beauty products. Which is why they strive to provide you with chemical-free products. Coco soul is a natural brand that hates chemicals as much as you do. They believe that mother nature has the solution to all your needs and Ayurvedic secrets of yesteryears are enough and effective to solve your beauty woes. Coco soul products are made entirely from natural ingredients and choicest ayurvedic herbs. They are free from sulphates, silicones, sodium chloride, DEA, mineral oils, petroleum, parabens and any other chemicals. Moreover, they are 100% vegan, have not been tested on animals and are also certified by Madesafe.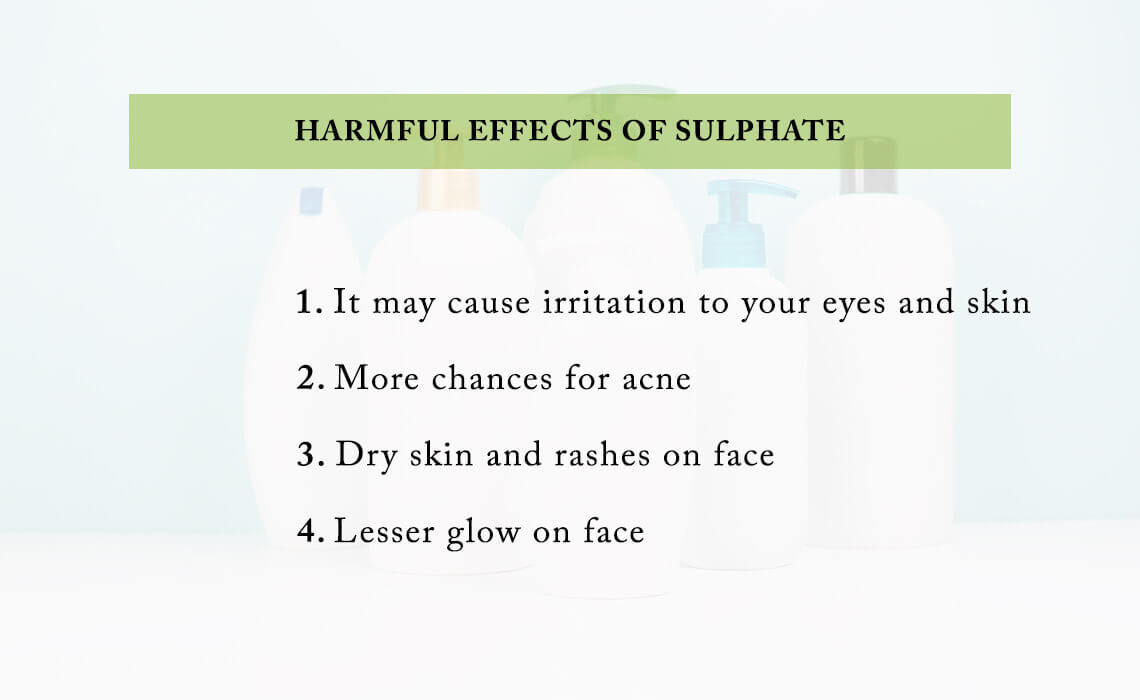 If you are fed up with the side effects of sulphates and want to switch to natural organic beauty products, we recommend the following Coco Soul products. Coco Soul Hair & Scalp Cleanser This natural shampoo is made of purest natural ingredients. Derived from the secrets of centuries-old Ayurveda, the Coco Soul Hair & Scalp Cleanser gently cleans the scalp while unclogging the hair follicles and strengthening the roots. Ingredients like virgin coconut oil present in this hair cleanser nurtures the scalp and nourishes the hair shafts without causing any lingering dryness. It contains -
Virgin coconut oil - Loaded with fatty acids and antioxidants, it moisturizes and hydrates your scalp and makes your hair soft.
Godapara - A potent herb, it soothes itchy and flaky scalps
Kikirindiya - It boosts blood circulation in the scalp, treats dandruff, and promotes healthy hair growth.
This sulphate-free shampoo will nourish your scalp and give you bouncy, manageable, and beautiful hair naturally. Coco Soul Revitalizing Face Wash With natural ingredients in its core, this natural face wash can be your skin's new best friend. It gently cleanses the dirt and impurities from your skin without drying it out. This face cleanser contains:
Virgin coconut oil - Known aselixir' in Ayurveda, it penetrates 10 layers deep into the skin to hydrate and nurture your skin and promotes cellular repair.
Gotukola - An organic hero, it is known to fight sagging skin by promoting collagen production to reveal younger, firmer skin.
Neem - Rich in vitamin E, this Ayurvedic herb is effective in removing pigmentation and giving you clear, blemish-free and younger-looking skin.
This nature-inspired face wash will make your skin appear rejuvenated, soft, beautiful and radiant.
Advantages of sulphate free products
Sulphate free products are gentle on your skin and scalp. They are made with organic ingredients that do not cause any side effects keeping you safe from problems like allergies, irritation or itch. Nature friendly as they are, sulphate free products restore the moisture and shine of your skin and hair. They are good for the environment too. As they contain no chemicals, they do not pollute the soil or water when they are washed off in the drains.
Agreed, sulphates have been used for a long time as a crucial component in beauty products. But considering the harmful effects of chemicals in cosmetics, it is always better to switch to organic products. Though natural products might not show you instant results, they are no doubt more effective and safe in the long run. So, clear your vanity off all sulphate based products and switch to au natural beauty world with Coco Soul. Head over to the Coco Soul website to shop for pure skincare and hair care products here.
Now that you know about the side effects of sulphates, you must also read about the side effects of 5 most harmful chemicals for hair.
Frequently Asked Questions on Sulphates in Beauty Products
1. Are sulfates bad for skin?
Yes, sulphates can be considered bad for the skin. They can cause irritation and also acne.
2. Should I avoid sulfates?
Yes, you should avoid picking sulphate based products. Instead, opt for sulphate free shampoo and conditioner.
3. Do sulfates fade hair colour?
The chemical salts present in sulphates can be harsh on your hair and fade the hair colour.
4. What happens when you start using sulfate-free shampoo?
When you start using sulphate free shampoo, you would find your scalp less irritated. Your hair would be less frizzy and oily and if you have coloured hair, it will protect the colour too.
5, Who should use sulfate-free shampoo?
Everyone should use sulphate free shampoo, but especially people with a sensitive scalp or frizzy hair should switch to sulphate free shampoo.
6. Why should you use sulphate free shampoo?
You should use a sulphate free shampoo and conditioner as there many side effects of sulphates. They irritate your scalp and can make your hair dry and frizzy.