Winters can be a great respite against sweltering summers and humidity, not to forget the heavenly comfort of hot showers and blankets that makes you stay snuggled all day with your favourite book. But who can ignore the various skin problems this season brings with it? While skin dryness is just a tip of the iceberg, harsh winter winds lead to much more painful and uncomfortable skin issues, such as winter rashes.
But don't worry, here is a quick guide on what is a winter rash and how to get rid of them. Read on.
What is a winter rash?
A winter rash is a patch of irritated skin with itchiness and/or redness caused by dry and cold weather. Though mild symptoms go away in a couple of days, excessive skin dryness can make it a recurring problem in winters. If you are wondering what does winter rash look like you should look out for symptoms like redness, swelling, bumps, blisters, flakes or itchiness on your skin.
What causes winter rash?
Your skin contains natural oils that keeps it hydrated and seals the moisture inside. However, during cold temperatures, the low humidity and harsh winds strip off this natural oil making your skin dry and causing skin rash.
Interestingly, you cannot blame only the winter winds for skin rash as the recirculated indoor air from heaters and hot showers are equally responsible for causing winter rashes. Moreover, you can also get winter skin rash due to a viral or bacterial infection, chemical-based harsh soaps, sunburn, deodorants, stress, fatigue, etc.
How to get rid of skin rash in winter?
You can prevent skin rashes during cold weather on your skin with the following tips -
1. Nourish your skin
For hundreds of different winter problems, there is one guaranteed solution and that is moisturisation. Nourishing your skin adequately is the first line of defence to cure skin rashes in winter. For winter skin rash, it would be best if you use a cream-based moisturizer or lightweight body butter that keeps your skin nourished and soft. However, ensure that your moisturizer is made of natural ingredients. Winter skin rashes can worsen due to the presence of chemical compounds in your skincare products. So, while you are already struggling with one skin issue, avoid any more such woes by saying no to all chemical-based skincare products.
Instead, look for natural alternatives that are rich in moisture and hydration. You can use natural ingredients found in the kitchen, like virgin coconut oil, welmi, shea butter, etc. But if you find procuring these ingredients in their pure form difficult or applying them messy as they usually are, you can look for nature-friendly brands that envision bringing the goodness of nature to your doorstep. Just like Coco Soul.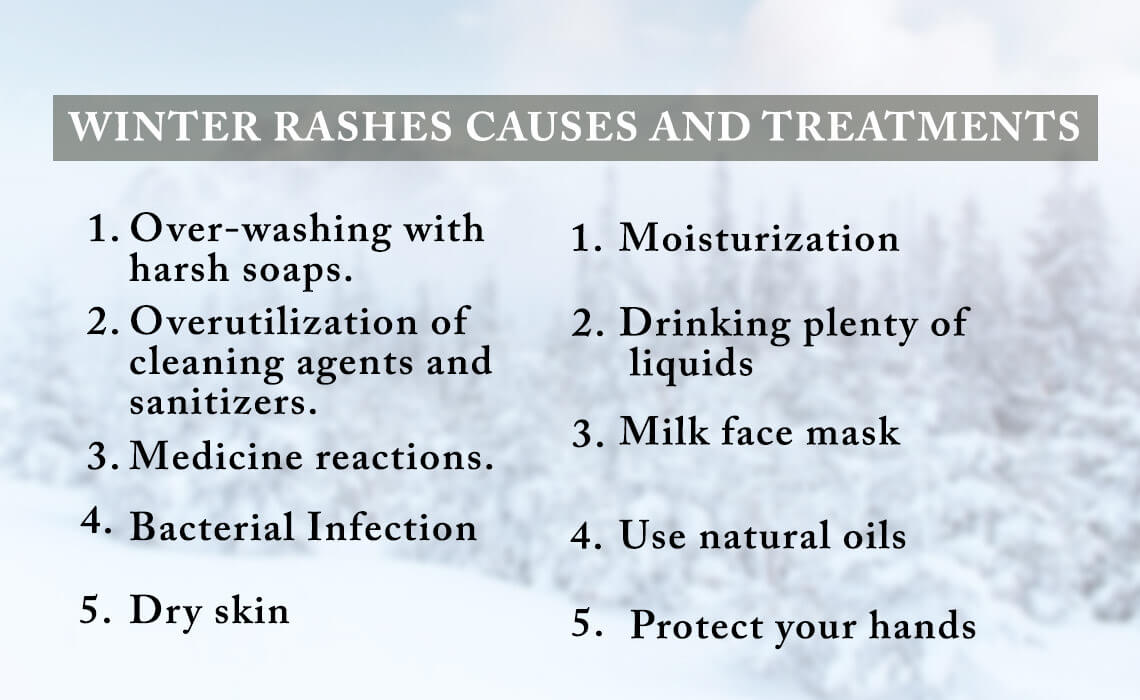 Coco Soul believes that mother nature has the solution to all your skin woes and the Ayurvedic remedies for skin issues of yesteryears are much more effective than the chemical skincare compounds found in abundance today. With this, we bring to you Coco Soul skincare products made with pure natural ingredients without the presence of parabens, silicones, sulphates, DEA, mineral oils, sodium chloride, or any other chemicals. To get rid of winter rash, you can try the nourishing skincare range of Coco Soul like the Coco Soul Nourishing Body lotion which is like a kiss on your skin. Infused with virgin coconut oil and ayurvedic herbs, it easily melts in your skin penetrating deep in the skin layers to soften dry skin and give you a moisturized glow. It contains -
Virgin coconut oil - Loaded with good fats and antioxidants, it hydrates your skin and penetrates deep into your skin to repair skin damage.
Welmi - Loaded with vitamin C, it reduces skin dullness and gives you a radiant and glowing skin
Sandalwood - Revered in traditional beauty culture, it reverses sun damage, deeply moisturizes your skin and minimises age spots.
Virgin Coconut oil - Called elixir in Ayurveda, it penetrates 10 layers deep into the skin and hydrates your skin.
Shea butter - Loaded with vitamin E, it reduces the appearances of wrinkles and makes your skin soft and younger-looking
Lodhra - It tones, and nourishes your skin and slows down the signs of ageing.
2. Turn down the heat
There is no better comfort than a hot shower in winter. However, it can aggravate skin rash in cold weather. Avoid taking long hot showers and tone down the temperature of your heaters to avoid skin dryness. Use lukewarm water for your showers and avoid using strong or harsh bathing soaps or shower gels. Also, use a humidifier for your house to increase the moisture content in the air. Applying a good sunblock while stepping out will further prevent winter rash.
3. Keep yourself hydrated
Your internal hydration is equally important to prevent skin rashes in cold weather. During winters you might not feel thirsty, which is why you must keep sipping water at regular intervals. Include lots of fruits and vegetables in your diet and keep yourself hydrated. Winter often causes dry skin. Check out our blog on dry skin care routine for winter to take care of dry skin in cold weather
Dealing with winter rash can be unpleasant and problematic. Though winter skin rashes are not serious, they might need medical treatment if they stay for a prolonged period. However, this should not stop you from looking your gorgeous self and enjoying the season. Keep winter skin rashes away with these tips and head over to Coco Soul skincare section to shop for more winter-friendly products today. You must also check out our blog on winter beauty tips to keep you skin and hair healthy and beautiful in winter.
Frequently Asked Question on Winter Rashes
1. How long does winter rash last?
Mild skin rashes during winter are temporary and usually goes away in 1-2 days. However, if they are caused by excess dryness and dehydration, they can last till the time the moisture content in the air increases or your skin gets hydrated.
2. How to get rid of a rash overnight?
Treat your rash with cold compression. Apply ice, cold cloth, or cold water on the rashes to get rid of them overnight.
3. Why is my skin so itchy in the winter?
The cold temperature draws away moisture from your skin in winter which makes it dry and itchy.
4. Will rash go away on its own?
Yes, mild rashes can go away on its own if it's not due to any allergy that requires a medical treatment. Using a moisturizer on the affected area can speed up the recovery process.
5. What are winter itch symptoms?
The symptoms of itchy winter rashes are swelling, blisters, bumps, itching redness and flakiness on the skin.