For those of us who've had enough of chemical-based beauty products constantly failing us and making things worse, there's another way. While advertising campaigns never cease to tempt you with new skincare formulas, centuries-old Ayurvedic wisdom will never fail you. It is always beneficial to go back to your roots and embrace natural skincare and DIY beauty.
Homemade beauty products containing natural ingredients such as coconut oil, honey, turmeric, etc., are not only safe to use, but they have also been the secret behind your grandmother's flawless skin for years. Among these, coconut oil is one of the most beneficial and nourishing ingredients that has become a staple in the basic skincare routine of many.
So, if you've been wanting to switch to a beauty routine that's solely natural, we have something for you. Here are the benefits of using virgin based coconut oil in your everyday beauty routine.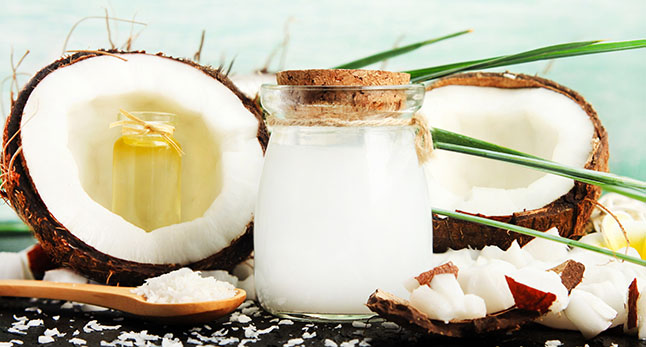 Benefits of using virgin based coconut oil on the skin
Seals moisture: Coconut oil keeps the skin hydrated by reducing the level of water loss from your body. This, in turn, improves your skin's elasticity and promotes collagen production.
Is antibacterial: It is made up of nourishing fatty acids, such as lauric acid, that eliminate the germs and bacteria from your skin, thereby reducing skin irritation or rashes.
Eases inflammation: Coconut oil acts as the first line of defence to support your skin's natural barrier and provides intense moisturisation, thereby reducing skin inflammation.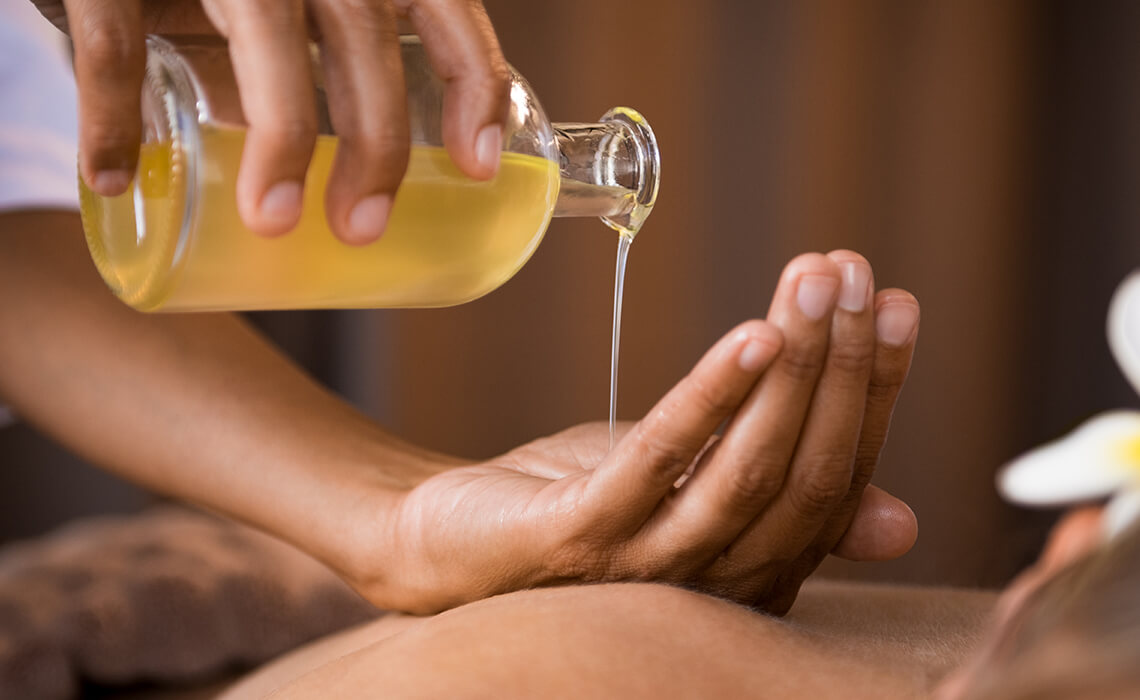 Benifits of using Coconut Oil for Hair

Strengthens hair shafts: Its smooth and lightweight texture penetrates deep into your scalp and strengthens your hair shafts from within.
Nourishes the hair: Regularly using this all-natural oil will nourish your parched locks and reduce protein loss and damage caused due to artificial styling products.
Now that you're privy to the many benefits of coconut oil, here are some ways to add this natural beauty elixir to your basic skincare routine. You must also check out our blog on the beauty benefits of using virgin based coconut oil.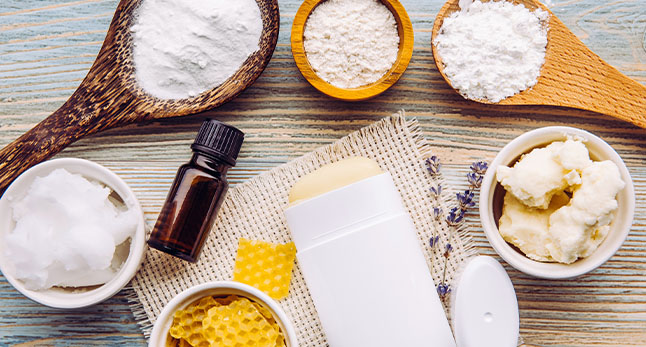 DIY recipes using coconut oil
1. Face mask for smooth, soft, and glowing skin
Benefit: Daily application of this coconut oil and turmeric mixture reduces skin dryness, redness, and inflammation. Moreover, it also helps decrease unwanted hair growth on the face.

Mix a teaspoon of turmeric powder with coconut oil and form a smooth paste. Apply it on your face and leave it on for 15 minutes. Rinse your face with lukewarm water and pat dry with a soft, clean face towel.
2. Natural exfoliating mask for glowing face
Benefit: Coffee acts as an excellent exfoliator that helps remove dead skin cells. This coconut oil and coffee mask can give you soft, glowing, and fresh-looking skin.

Mix some coconut oil and ground coffee and apply it to your face in gentle, circular motions. Remember to leave out the area around your eyes, mouth, and nose. Let it stay for 15 minutes and rinse off using lukewarm water.
3. Face mask for smooth and acne-free skin
Benefit: This DIY coconut mask with coconut oil and honey helps clear acne and keeps your skin soft, supple, and glowing.

Mix honey with a teaspoon of coconut oil to create a smooth paste. Apply this DIY beauty mask all over your skin in small, circular motions. Leave the mask on for 10-15 minutes and rinse off with lukewarm water.
4. Coconut oil hair mask for nourished and dandruff-free scalp
Benefit: Using this coconut oil and lemon mixture twice a week will nourish your hair and reduce dandruff.

Add 2-3 tablespoons of coconut oil to a bowl and heat it a little. Next, pinch a dash of lemon juice in it and gently massage the mixture on your scalp. Leave this coconut oil and lemon mixture for 30 minutes before rinsing with lukewarm water.
5. Hair mask for stronger, smoother, and shinier hair
Benefit: Use this DIY treatment of aloe vera and coconut oil for hair once a week to boost your hair volume. Mix 2 tablespoons of aloe vera gel and 1 tablespoon of coconut oil in a bowl. Stir them together until they form a smooth paste. Next, divide your hair into sections and apply the mask on the lengths of your hair with your fingers. Once done, cover your hair with a warm towel and leave it on for 30 minutes. Finally, rinse the mask using lukewarm water.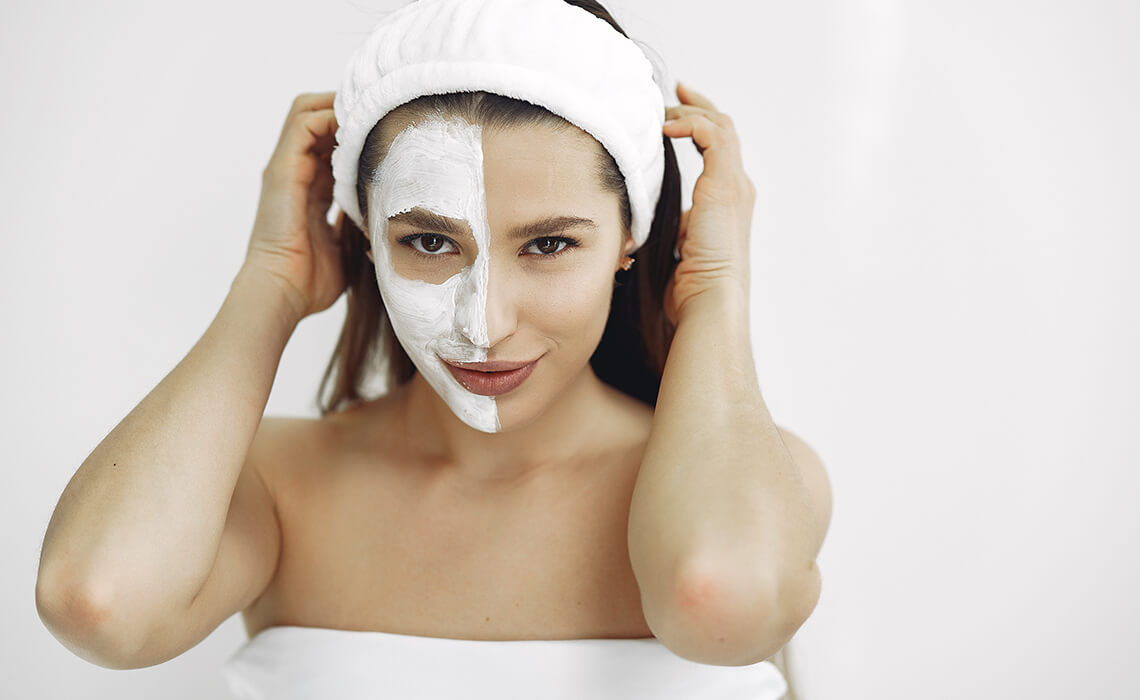 Try Ayurvedic products with the qualities of virgin based coconut oil
These DIY beauty recipes can do wonders for your hair and skin. However, what if we tell you that instead of experimenting with these raw ingredients, you can pick products that have been prepared with the goodness of Virgin Based Coconut Oil and the magic of Ayurveda in their core. Wouldn't that be much easier?
Presenting to you the all-natural skin and hair care products from Coco Soul made with pure Virgin based Coconut Oil and infused with exotic herbs and spices from ancient Ayurveda.
Now, you can indulge in a sensuous and luxurious skincare session and pamper yourself with Coco Soul's products from the comfort of your home. Coco Soul derives its goodness from the staple Virgin King Coconut from Sri Lanka, which is rich in fatty acids and antioxidants that deeply hydrate your skin and make it silky soft and smooth.
Another essential factor that makes these products different and exotic is the Ayurvedic twist. Every Coco Soul product is infused with the magical properties of ancient Ayurvedic wisdom in the form of different herbs and spices. Moreover, it is MadeSafeâ"¢ certified, not tested on animals, and free from all chemicals.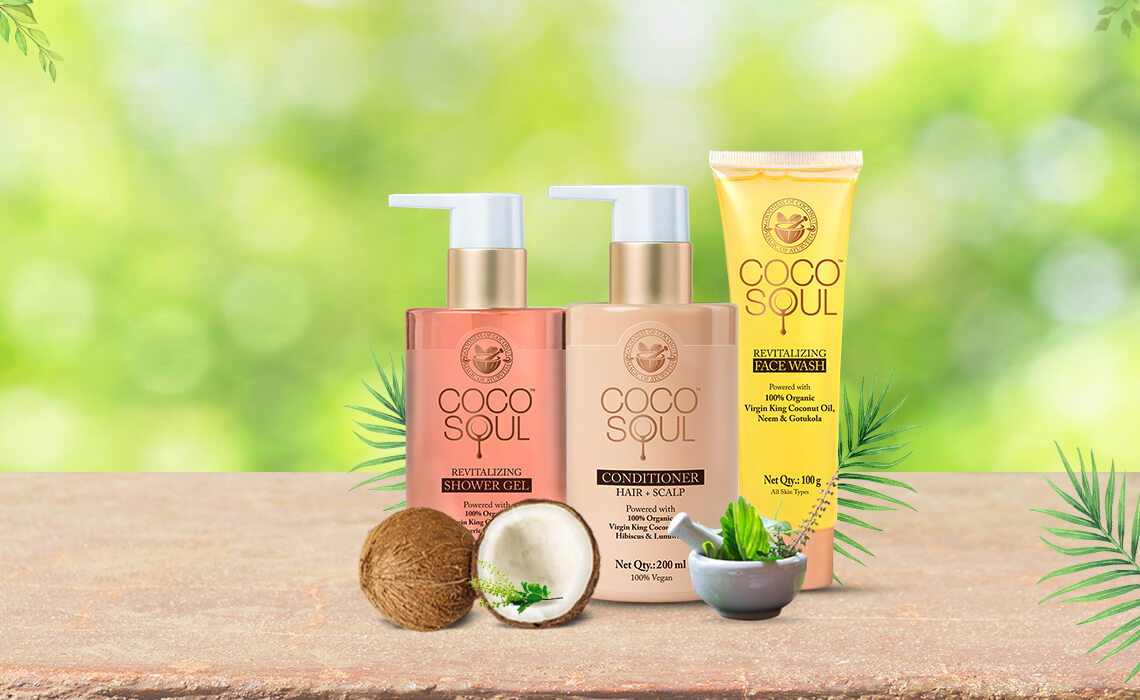 Some of the coconut-based Coco Soul products that you can add to your beauty routine are:
Revitalizing Shower Gel: Indulge in a luxury bath with the Coco Soul Revitalising Shower Gel that contains herbs like sandalwood and gotukola to give you a fresh and radiant look. Enriched with virgin king coconut oil, this natural skincare product gently cleanses the dirt from your skin and provides it with the ultimate nourishment. The infusion of sandalwood, on the other hand, reduces oxidative stress in your skin and minimises age spots, while gotukola, a wonder herb, encourages collagen production and fights sagging skin.
Revitalizing Face Wash: A natural skincare product to keep your skin fresh and rejuvenated, this face wash is infused with natural herbs like neem and gotukola that deeply cleanse your skin while giving it the required nourishment. With virgin king coconut oil in its core, the presence of neem reduces pigmentation and blemishes from your skin, while gotukola repairs sagging skin to make it firmer and younger-looking.
Hair and Scalp Conditioner: If you are looking forward to using virgin coconut oil for your hair too, you can try this 100% vegan hair conditioner by Coco Soul. This magical conditioner boasts an equally magical combination of Ayurvedic herbs and virgin king coconut oil to keep your tresses healthy and lustrous. Herbs like hibiscus prevent hair fall, while lunuwila reduces split ends and greying, thereby boosting your hair growth.
A staple in many coastal regions, virgin  based coconut oil can do wonders for your health, skin, and hair. Why not make the best use of it then? Include coconut oil in your daily routine and harness its magic today.
To find out more about exotic, Ayurvedic products from the house of Coco Soul, visit our store now!