Organic skincare is the beauty trend you should adopt in this new year. No, not because they are trending or celebrities are endorsing them, but, because organic products are better for you in all ways. They keep your skin flawless, are safe to use, and are environmentally friendly too. Moreover, it is no longer a task to find brands that can provide you organic eco-friendly skincare products; you just need to shift your focus.
But of course, it is always best to change your skincare products from chemicals to organic, only when you know why it is the better way of life. And so, here we tell you 5 reasons why you should switch to organic skincare products. And we can bet, once you include organic in your beauty routine, you will see the difference yourself.
What is organic skincare?
Organic skincare products are made of natural ingredients without any chemical elements in them. The ingredients used in them are organically farmed and do not contain genetically modified materials, synthetic residues, or chemicals.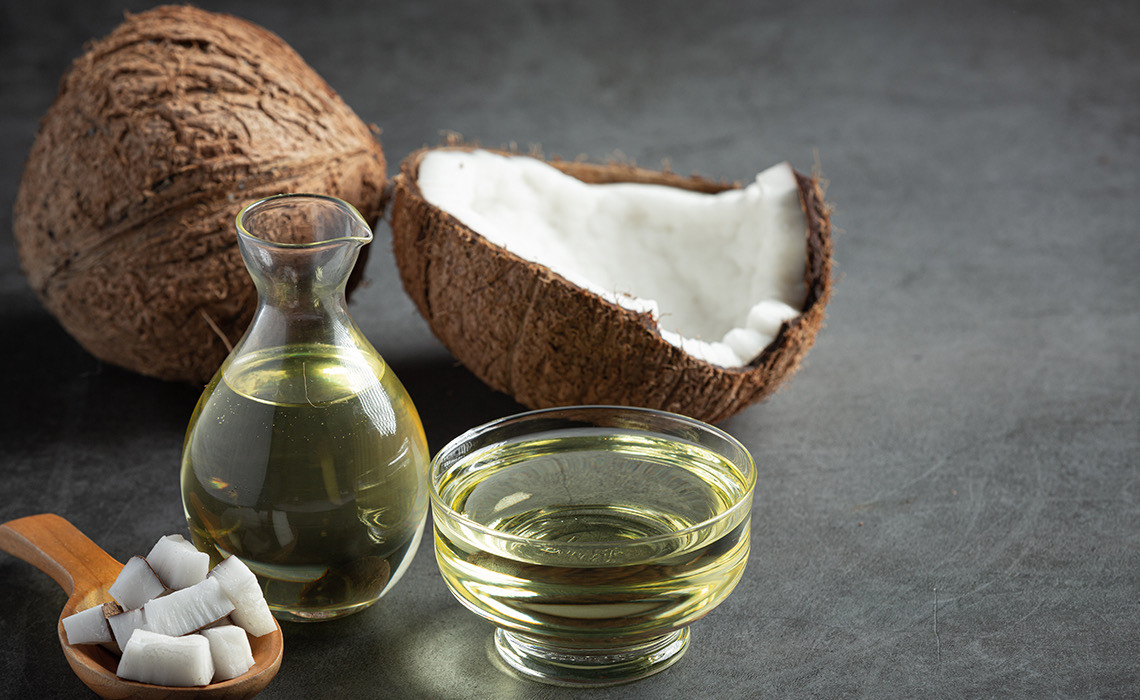 Why should you use organic beauty products?
1. They are nutrition rich
Natural skincare is made from natural ingredients that are nutritionally rich. These ingredients are primarily great for your health, which makes them good for your skin too. Made with ingredients like coconut oil, peppermint, shea butter, etc., herbal skincare is rich in vitamins and antioxidants that make them highly nutritional and effective in treating skin woes.
2. They are safe for the skin
Free from chemicals, these natural skincare products are safe on the skin. When you start using them, you would notice a drastic reduction in allergic reactions, irritation, itch, or acne in your skin.
3. They are environmentally friendly
Organic skin products are made of natural ingredients and so, do not leave a harmful footprint on the environment. They do not leave chemical residue in the environment or cause soil or water pollution on being washed off in the drains.
4. They are more effective
Devoid of any chemicals and made with pure ingredients, herbal skincare is more effective for your skin. It penetrates deep into the skin and shows visible results without any side effects.
5. They are sustainable
Many chemical ingredients like petroleum are made by harming the environment. Sometimes animal by-products are also used in cosmetics which indicate towards unsustainability. However, natural skincare is sustainable, which does not harm animals, or the environment in any way.
Now when you have finally set on the path of sustainability and organic living, we have something for you! Presenting Coco Soul. Coco Soul is just the brand you are looking for - natural, organic, and chemical-free. We, at Coco Soul, believe that mother nature has the solution for all your skin and hair woes. With this vision in mind, the products of Coco Soul are made with the secrets of ancient old Ayurveda which is believed to be more effective than the beauty formulas of today. Our products are made with natural herbs and 100% organic coconut oil in their core. They are non-toxic, safe, gentle, and plant-derived.
The products of Coco Soul are also free from sulfates, silicones, sodium chloride, petroleum, DEA, mineral oils, phthalates, propylene glycol, parabens, or any other chemical compounds. Moreover, it is 100% vegan and cruelty free and has also been certified by MadeSafe.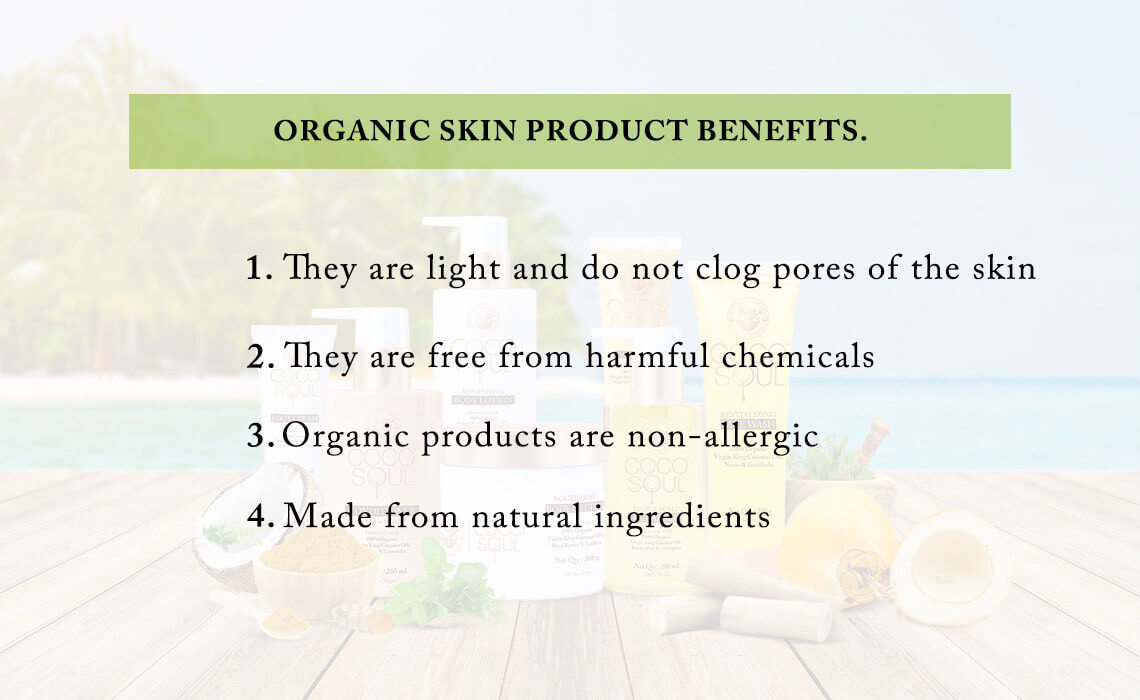 Here we recommend a few organic beauty products that you can try for flawless skin.
Coco Soul Revitalizing Shower Gel: Made with pure and organic virgin coconut oil and Ayurvedic herbs, this shower gel is like a splash of pure ingredients on your skin. Its natural ingredients gently cleanse, purify, and rejuvenate the skin without any lingering dryness. It contains:
Virgin coconut oil - It has skin-nurturing compounds that hydrate and nourish the skin.
Sandalwood - It reduces oxidative stress in the skin, minimizes age spots, and reverses sun damage.
Gotukola - It fights sagging skin and promotes collagen production.
With its lightweight texture, this shower gel will transform into a luxurious foam and give you an exotic shower experience.
Coco Soul Face Scrub: Like a gentle kiss on the skin, this natural face scrub unclogs your pores and purges skin impurities without causing any dryness on the skin. It deeply cleans your skin of all the dirt, dead skin, and sebum and leaves your skin even-toned, clear, and flawless. It contains -
Virgin coconut oil - It penetrates 10 layers deep in the skin, hydrates the skin, and promotes cellular repair.
Sandalwood - Revered in eastern culture, it reduces the oxidative stress in the skin, minimizes age spots, and reverses sun damage
Venivel - It gently exfoliates your dead skin, removes excess oil, and renews your skin.
Coco Soul Nourishing Body Lotion: This genie in a bottle melts easily in your skin, penetrating deep into your skin layers to give you firmer skin and moisturized glow from the first application. This natural body lotion's lightweight texture makes your skin soft and smooth. It contains -
Virgin coconut oil - It contains antioxidants and fatty acids and restores lost moisture.
Welmi - It is loaded with vitamin C that reduces skin dullness and gives you radiant and dewy skin.
Sandalwood - It deeply moisturizes your skin and reverses sun damage and minimizes age spots.
Just like an organic diet is good for health, organic skincare is better for the skin and sustainable for the environment. It protects you from the harmful effects of chemicals and gives you glowing, radiant, and beautiful skin. Head over to the Coco Soul website to shop for ayurvedic products for skincare now!
You must also check out our blog on skincare tips for party, it'll help you to get prepped for party season.
Frequently Asked Questions on Organic Skincare
1. Is organic skincare better?
Yes, organic skincare is better. It not only saves you from the harmful effects of chemicals but is also more effective.
2. What are the benefits of using organic products?
Organic products are safe on your skin, do not contain any chemical or synthetic ingredients, and are good for the environment too.
3. What does organic mean in skincare products?
It means the products are made of natural ingredients. They do not have GMOs, chemicals, and synthetic fertilizers.
4. How do you know if a product is natural?
Check the label of the products to know if they are natural. The label of the skincare products often contains specific marks, stickers, logos, or numbers that signify that they are natural.
5. Which ingredients should you avoid in skincare?
You should avoid chemicals like sulphates, mineral oils, parabens, silicones, etc, in skincare.
6. What is the difference between natural and organic products?
Natural products are free from chemical ingredients and are made from plant-based ingredients, whereas, organic products are also free from pesticides, preservatives, or additives. Both are chemical-free but the amount of other synthetic components varies between the two.