Who doesn't wish for flawless skin? Skin that is as smooth as pashmina itself and naturally beautiful. Often, the only bridge between you and the skin you desire is a layer of dead skin cells. You may use the best products day and night, but if you miss out on exfoliating this dead skin, they would hardly be efficient. Moreover, pollution and impurities in the air, when allowed to settle down on your skin, can make it look dull and old. Hence, it is important to regularly exfoliate and allow your skin to breathe and glow.
Here is a guide on the importance of exfoliation and why it is a secret to flawless skin.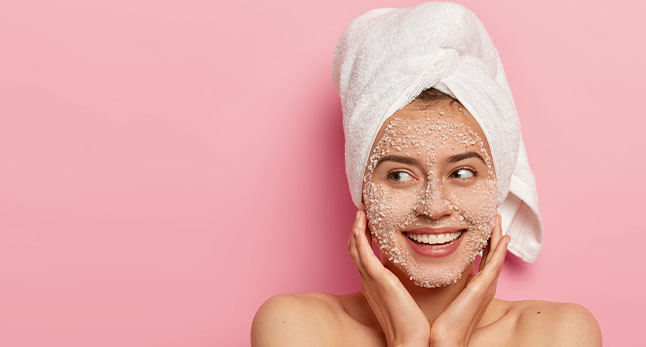 Exfoliation! What's that?
The process of removing the dead skin from the skin's surface is called exfoliation. While exfoliating your skin, the skin's upper is rinsed of dirt and grime that clogs your pores. Regular exfoliation deeply cleanses your skin and removes pollutants to reveal your natural glow.
What makes exfoliation important?
Your body is constantly making new skin cells to replace the dead ones. However, as we age, this process slows down, making it vital for us to exfoliate and get rid of the dead skin. If this layer of dead skin is left on the skin, it can clog your pores and cause acne and blackheads.
There are many benefits of exfoliation. Exfoliating not only gives you a brighter complexion but also improves skin health. The removal of dead skin makes it easier for skincare products to penetrate deeper into your skin and work better. Moreover, exfoliation accelerates the skin's renewal process, thereby reducing acne, marks, and blemishes.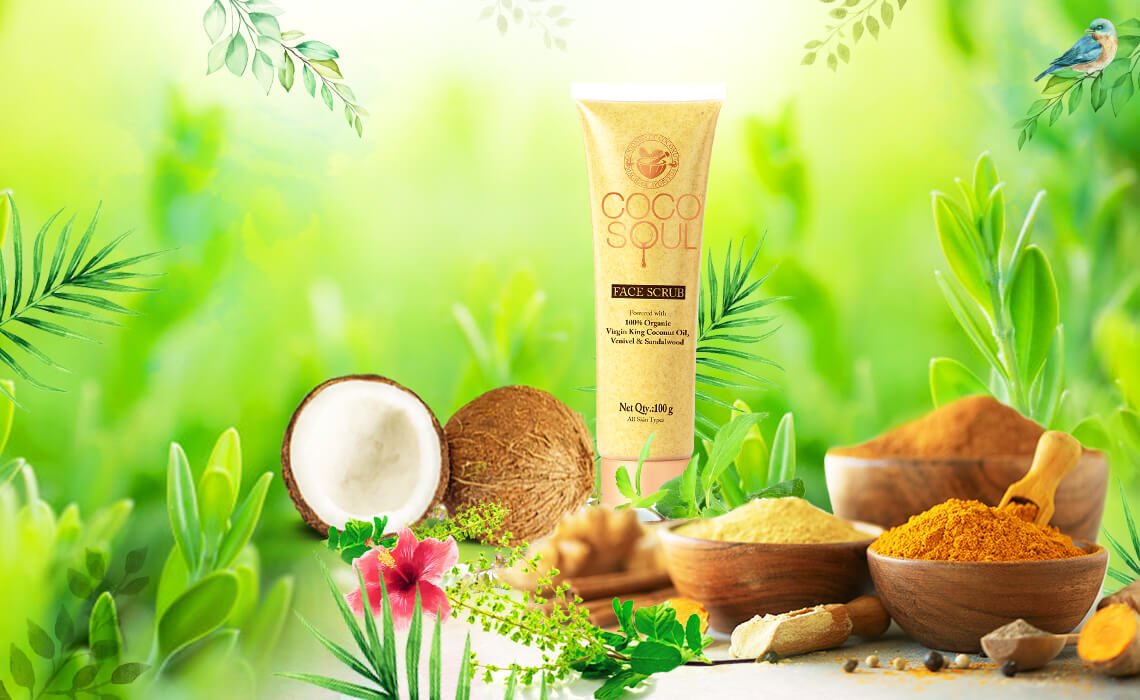 Which ingredients are suitable for exfoliation?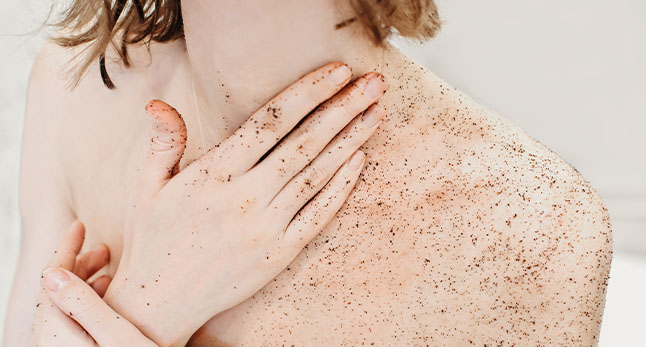 Owing to the importance of exfoliation, you might find supermarket shelves lined with different face scrubs. However, most of those are chemical-based and are harmful to our person as well as the environment. Some also contain carcinogenic properties that can be detrimental to your health.
Therefore, to be on the safe side, dermats advise on using exfoliating products that are free from parabens, sulphates, silicones, DEA, mineral oils, sodium chloride, and other chemicals. Better, they suggest using face scrubs and exfoliators that are made with plant-based ingredients and are 100% safe for our skin.
Try Coco Soul
Agreed, it could be difficult to get pure ingredients for your skin routine, but not when you know about a brand that specialises in gathering nature's goodness in tubes and bottles; presenting, Coco Soul.
We, at Coco Soul, believe that Mother Nature has solutions to all our skin issues, and so our products are created and crafted with the magic of ancient Ayurvedic wisdom so that your skin is as flawless and beautiful as nature itself.
To remove dead skin and reveal your concealed glow, we recommend using natural exfoliators like the Coco Soul Face Scrub. Infused with virgin coconut oil in its core and Ayurvedic herbs like sandalwood and venivel, it's an effective exfoliator for blemish free and bright skin. It gently unclogs pores, purges surface impurities and removes dead skin without any lingering dryness. This nature- inspired face scrub contains potent ingredients like -
Virgin coconut oil - Called as the elixir in ayurvedic wisdom, virgin coconut oil is rich in fatty acids and antioxidants that hydrate the skin and keeps it soft, smooth and supple.
Sandalwood - An esteemed ayurvedic herb, sandalwood is revered in eastern culture for its soothing benefits for skin. It reduces the oxidative stress in skin, reverses skin damage and reduces age spots to give you a glowing and younger looking skin.
Venivel - Venivel, a lesser known exotic herb is known to gently exfoliate skin, remove excess oil and give you a fairer and spotless complexion.
This nature - inspired face scrub works as a charm on your skin and gives you a clearer, softer and even toned skin. It is 100% vegan, has not been tested on animals and is also MadeSafe certified. That means you can be rest assured that it won't harm your skin or the environment but only bring to you the magical gift of mother nature.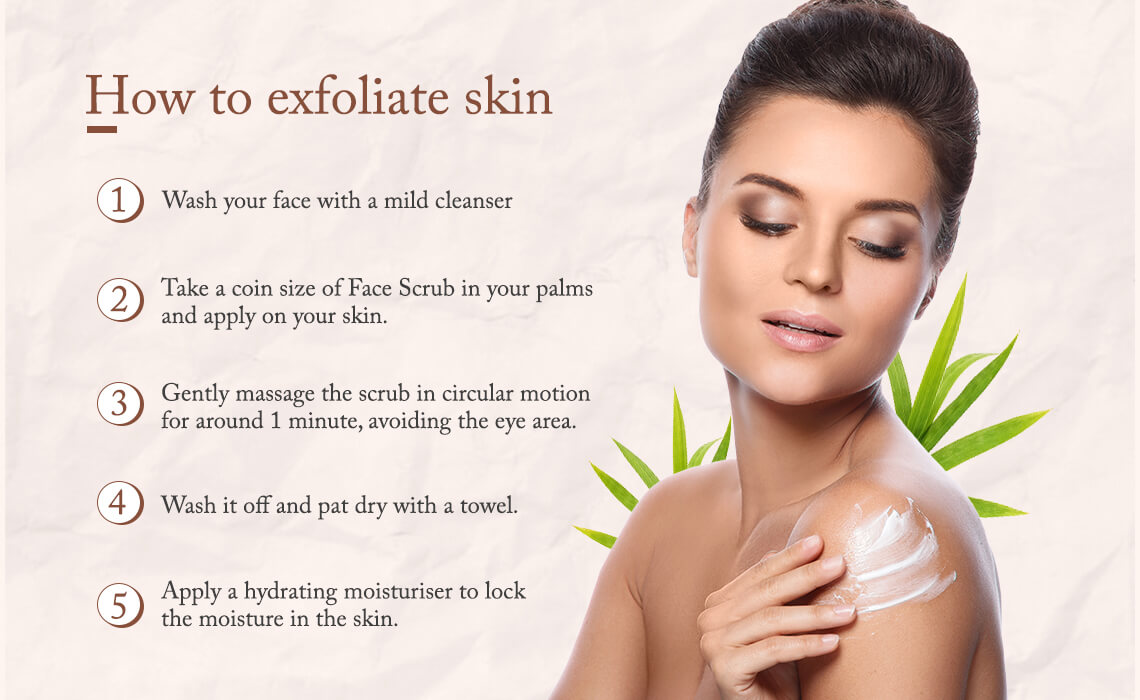 Step by step guide on how to exfoliate skin naturally
While it is not a science to know how to exfoliate skin, often people harm their skin by doing it the wrong way. The presence of microbeads in exfoliators can sometimes irritate your skin if not used appropriately. Therefore, you should use a natural and ayurvedic face scrub and in limited quantities. Here is the step to step process to exfoliate your skin -
Wash your face with a mild cleanser. Try the all natural Coco Soul Revitalising Face Wash that is infused with the exotic virgin coconut oil and ayurvedic herbs like gotukala and neem.
Take a coin size of Coco Soul Face Scrub in your palms and apply on your skin.
Gently massage the scrub in circular motion for around 1 minute, avoiding the eye area.
Wash it off and pat dry with a towel.
Apply a hydrating moisturiser to lock the moisture in the skin.
Exfoliation is an important part of an healthy skincare routine. Check out our blog on skincare routine steps to learn how to create your personal skincare routine.
Natural products like Coco Soul Face Scrub are as good as homemade face scrub for glowing skin in easy tubes. This natural exfoliator not only helps you remove dead skin, but also nourishes the skin to ward off flakiness and dryness usually caused by chemical exfoliators. Now that you know how important exfoliation is for your skin, head over to our skincare section here and shop for some natural face cleansers and scrubs today. Have you heard about skin fasting? It's trending nowaday. Check out our blog on skin fasting benefits to learn more about it.